I was going for a Halloween theme today and was thinking it would be fun to use my mini Halloween cookie cutters. So we decided to make some homemade cheese crackers! I've had the recipe forever, but never tried them. They were so easy and a good activity to do together! They are very rich, but at least they are not full of crazy ingredients. Let's compare...
Ingredients in Sunshine® Cheez-It® Original snack crackers:
ENRICHED FLOUR (WHEAT FLOUR, NIACIN, REDUCED IRON, THIAMIN MONONITRATE [VITAMIN B1], RIBOFLAVIN [VITAMIN B2], FOLIC ACID), VEGETABLE OIL (SOYBEAN AND PALM OIL WITH TBHQ FOR FRESHNESS), CHEESE MADE WITH SKIM MILK (SKIM MILK, WHEY PROTEIN, CHEESE CULTURES, SALT, ENZYMES, ANNATTO EXTRACT FOR COLOR), CONTAINS TWO PERCENT OR LESS OF SALT, PAPRIKA, YEAST, PAPRIKA OLEORESIN FOR COLOR, SOY LECITHIN.
Ingredients in my homemade cheese crackers:
Cheese, butter, and flour
Much better, right? So here's what you do:
Combine 1/2 Lb Sharp Cheddar Cheese (or 1 Cup, grated cheese), 5 Tbsp of butter, cut into cubes, and 1 cup of flour in a food processor and combine (dough may be a bit crumbly, but it will stick together).
2. Remove all the dough to a piece of parchment or waxed paper and shape into a thick flat circle. Cover with waxed paper and refrigerate for one hour or overnight.
3. Preheat oven to 400 degrees.
4. Open waxed paper and roll out dough on it into a 1/4 inch-thick piece.
5. Take small cookie cutters and cut out into shapes
6. Place on a cookie sheet (preferably lined with a silpat or parchment paper) and bake for 12-15 minutes. Let cool on sheet for 2 minutes before removing.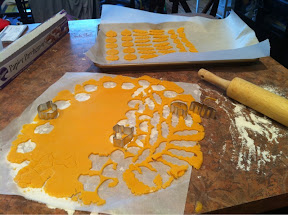 7. Serve (or eat directly off the tray;) )
You need to make these just so you can smell them. Oh my, so cheesy and delicious.
With my extra dough I cut out some hearts and some twists.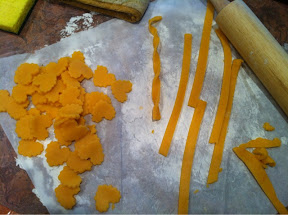 If you make these, let me know how you like them!! I don't think they will last long around here:)
Here is Gianna's lunch from today. A pumpkin shaped sandwich (cream cheese and jelly), apricot pumpkins, and Halloween cheese crackers.
Have a fantastic weekend!!
- Posted using BlogPress from my iPhone